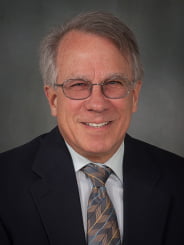 Former Director, Pediatric Pharmacology Program, University of Utah School of Medicine
Former Chair, American Academy of Pediatrics Committee on Drugs
Bob Ward, M.D., recently retired from the University of Utah, where he was professor of Pediatrics and adjunct professor, Pharmacology/Toxicology, in the College of Pharmacy. He was an attending neonatologist at the University of Utah School of Medicine and attending neonatologist and medical director of the Newborn Intensive Care Unit at Primary Children's Medical Center (1989-1997). Dr. Ward was also the chair of the American Academy of Pediatrics Committee on Drugs (1997-2001); director, University of Utah Pediatric Pharmacology Program (1997-2011); a member of the FDA Pediatric Advisory Committee (2006-2010) and a member of the Institute of Medicine Committee on Review of Pediatric Studies Conducted Under the Best Pharmaceuticals for Children Act and the Pediatric Research Equity Act. Prior to working at the University of Utah, he was Assistant Professor of Pediatrics and Pharmacology, attending neonatologist at Pennsylvania State University College of Medicine.
Dr. Ward trained in Pediatric Clinical Pharmacology at the University of Minnesota conducting basic and clinical trial research. He started a pediatric clinical trials program at the University of Utah. Dr. Ward collaborated with several members of the faculty of the College of Pharmacy and the Department of Pharmacology/Toxicology in a study to determine potential causes of inadequate responses of children with asthma to treatment with inhaled corticosteroids (ICS). The study of children with asthma enrolled 1,550 patients at PCH.
Dr. Ward has been honored by the American Pediatric Society and received the Utah American Academy of Pediatrics Lifetime Achievement Award. He has been invited to participate in several FDA Pediatric Advisory Committees and NIH and NICHD programs. His contributions in the area of pediatrics have been extensive.
Dr. Ward graduated with a B.S. in chemistry from Southern Methodist University and received his M.D. at Johns Hopkins University Medical School.
Find out how I-ACT for Children can help advance your pediatric development project.