I-ACT for Children evolved out of a call from the American Academy of Pediatrics, pediatric researchers, the pharmaceutical industry and government agencies. These stakeholders recognized that children needed better access to safe, effective pediatric drugs, biologics and medical devices. I-ACT for Children meets that need by providing the resources to conduct efficient, effective pediatric clinical trials.
I-ACT for Children Milestones
The American Academy of Pediatrics brought together key stakeholders to discuss the need for an independent, global pediatric clinical trials network.
The Critical Path Institute (C-Path) responded to their call and established the Pediatric Trials Consortium, an initiative that included clinicians, academics, regulators, patient advocates, parents, professional societies, international experts, pediatric disease networks and biopharmaceutical industry representatives.
In March, I-ACT for Children was born. C-Path established the Institute for Advanced Clinical Trials for Children (I-ACT for Children), a 501(c)(3) nonprofit, to support and advance pediatric research and innovation. Johnson & Johnson signed on as I-ACT for Children's first sustaining member.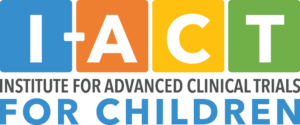 That same year, the U.S. Food and Drug Administration (FDA) awarded I-ACT for Children a five-year, $5 million grant in support of its efforts to improve pediatric drugs and devices.
"The launch of I-ACT for Children is an important milestone in the global effort to collect reliable data and accelerate treatment development for our pediatric patients."
Janet Woodcock, M.D.
Director of the Center for Drug Evaluation and Research, FDA
With funding secured, I-ACT for Children developed and launched its Pediatric Site Network, the largest pediatric research site network focused on labeling and approvals.
I-ACT for Children's project portfolio expanded to include pre-competitive and biopharma projects, enabling innovation across multiple therapeutic areas. I-ACT for Children also welcomed Novartis as a sustaining member.
2019 began with I-ACT for Children welcoming Eli Lilly and Company as a sustaining member. I-ACT for Children also launched the Pediatric Improvement Collaborative for Clinical Trials & Research (PICTR®) quality improvement pilot program. I-ACT for Children rolled out the full PICTR® program in 2020.

In response to the SARS-CoV-2 pandemic, I-ACT for Children established an Emergency Access Program for sponsors of COVID-19 therapeutics and vaccines.
I-ACT for Children actively prepares and disseminates information important to all drug development stakeholders. Our Site Network includes > 70 sites including 8 sites outside the United States ( 6 in Australia, 1 in Panama and 1 in Columbia)
Find out how I-ACT for Children can help advance your pediatric development project.